The Cabinet Office provides administrative and secretariat support to the Cabinet. The Office administers Ministerial leave, overseas travel and acting appointments in consultations with the Hon. Prime Minister. The Office also facilitates parliamentary pension allowances, and requests for the use of the Fiji Flag and the Coat of Arms.
The roles and responsibilities of the Cabinet Office have expanded with the establishment of Fiji's first genuine democracy under a Parliamentary system. The Cabinet Office supports the Prime Minister and Cabinet and helps ensure the effective running of Government. The Office provides advice to the Prime Minister and Ministers, coordinates the submission and timely circulation of Cabinet papers prior to meetings, records the deliberations of Cabinet, facilitates the implementation of its decisions, and promotes the release of Government information in order to make the work of Government more transparent and understandable.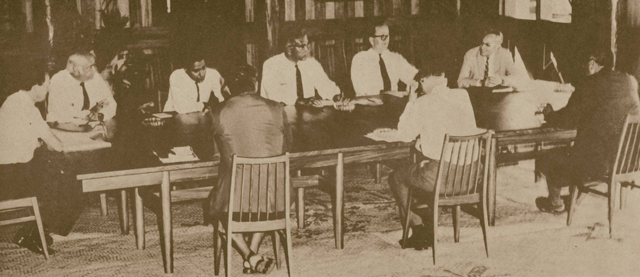 The very first Cabinet Meeting after Independence.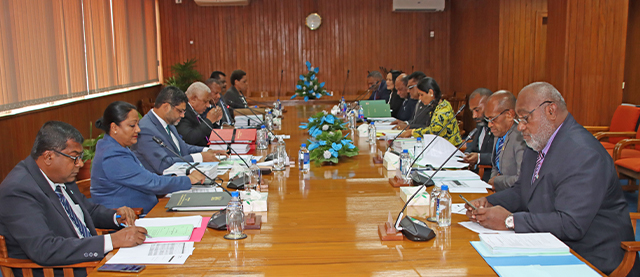 Cabinet Meeting in progress on 6th October, 2020.
Mr. D.W. Brown, the Minister for Natural Resources, is at the far left. Facing the camera from left are the Minister for Communications, Works and Tourism, Mr. Charles A. Stinson; the Minister for Commerce, Industry & Co-Operatives, Mr. Vijay R. Singh; the Prime Minister, Ratu Sir Kamisese Mara; the Attorney-General, Mr. J.N. Falvey and the Minister of Finance, Mr. Wesley Barrett. With their backs to the camera are from left, the Minister for Social Services, Mr. Jonate Mavoa; Secretary to Cabinet, Mr. R.T. Sanders and the Minister for Labour, Ratu Edward Cakobau. The Minister for Fijian Affairs and Local Government, Ratu George Cakobau, was absent at the time. He arrived later from the meeting of the Great Council of Chiefs.
Photo Credit: Fiji Museum